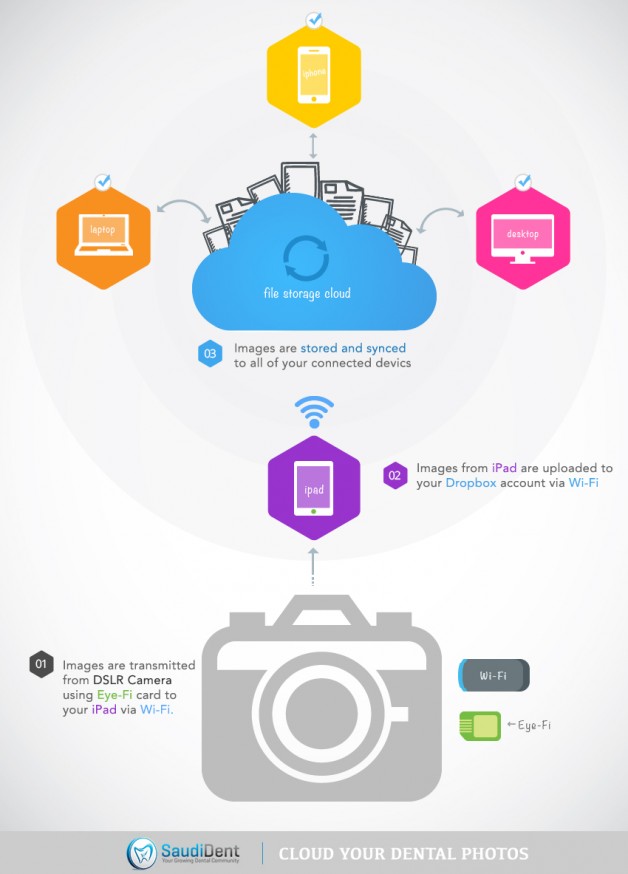 In a previous post, I have detailed the steps required to send your Dental photos home while you're still in the clinic enjoying the drill and fill practice. In that post I have highlighted the benefits of using Dropbox as a sync and backup service provider. In my current post I will continue to use Dropbox services as a cloud storage, in addition to that I will use one interesting piece of gadget (Eye-Fi, Pro X2). Before I start my steps, I will briefly describe the Eye-Fi card and highlight some of its features.
Eye-Fi
Ultra-fast, Class 10 performance and 16GB capacity easily captures hours of HD video, low light and fast action shots.

Pro X2 quickly and reliably delivers your high-quality images bit-for-bit to your computer, smartphone or tablet using built-in WiFi.
Items needed:
DSLR Camera (e.g. Nikon D7100)

Eye-Fi, Pro X2 Card

Eye-Fi application installed on your iPad (link)

iPad

Wireless internet access, preferably with unlimited Internet plan.

Internet router, or hot-spot
Steps:
Setup your Eye-Fi card, pair it with your iPad and your network.

Insert the Eye-Fi card into your Camera memory slot

Use your DSLR Camera as routinely you do

Once you have finished shooting, keep your camera switched "ON" and then fire up your Eye-Fi application on your iPad, or you may start the application prior to shooting.

The Camera will automatically send your photos wirelessly using your network Or direct more to your iPad. A photo with fine/high resolution might take up to 11 seconds to be transferred from the Camera to your iPad.

The next steps are for uploading the transferred photos to your Dropbox account, which have been explained in details in previous post.
If you have enabled the auto photos upload in your Dropbox account, then those transferred photos will be automatically uploaded to the cloud.
Notes:
In cases where wireless Internet access is not not available, you can use 'Direct Mode' to transfer images to your iPad without the need of Internet service.

A new version of the Eye-Fi has been recently released. (Link)
Closing:
The best scenario might be having a DSLR Camera with a built-in WiFi functionality  that allows a direct connection to your tablet without the hassle of network configuration. Nikon has made this true with its D5300 that offers built-in WiFi as well as GPS.
Useful links: