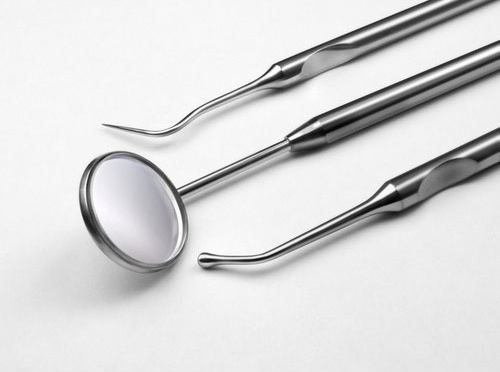 Dental instruments are the tools that dental professionals use to provide dental treatment. They include tools to examine, manipulate, restore and remove teeth and surrounding oral structures. Standard instruments are the instruments used to examine, restore and extract teeth and manipulate tissues. (Ref. http://en.wikipedia.org/wiki/Dental_instruments)
Dr. Rafif AlShenaiber member of SaudiDent.com MindMap Team has created a mindmap in the subject of Dental Instruments. In her MindMap she has used images for better understanding and memorization.
The mindmap covers the following sections:

Instruments used for Rubber Dam Placement
Infection Controls
Basic Instruments
Instruments and sundries used in Moisture Control
Handpieces, Burs and Rotary Attachments
Local Anaesthesia
Dental Radigraphy
Surgical Instruments
Orthodontic Instruments
Instruments used in Basic Restorative Procedures
Instruments used in Endodontic Treatment
Extraction Forceps
Matrix Bands and Matrix Retainers
Impression Trays
Instruments used in Periodontal Procedures
Instruments used in Removable and Fixed Prosthodontics
MindMap Link
We hope you enjoy our mindmap as we have enjoyed creating it. Please allow sometimes for images to download.
Click HERE

Mindmap reference:
Basic Guide to Dental Instruments. By Carmen Scheller-Sheridan
Link : http://www.amazon.com/Basic-Guide-Dental-Instruments-Dentistry/dp/1444335324

Helpful links