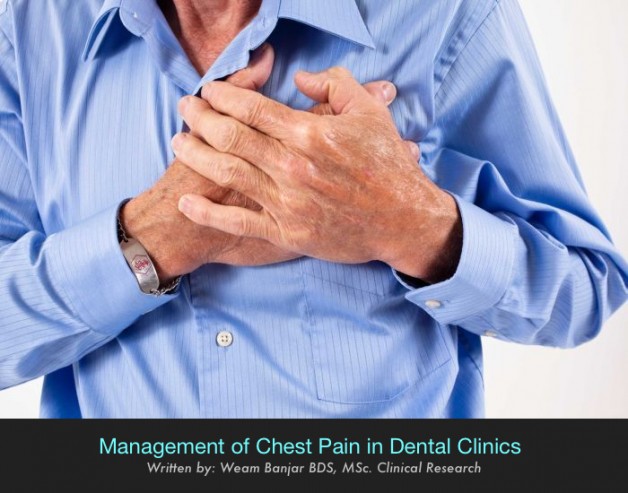 Dental professionals should be equipped with knowledge and training to deal with medical emergencies as they may occur. Chest pain could be related to acute myocardial infarction, angina paroxysmal supraventricular tachycardia, gastroesophageal reflux, anxiety, and costochondritis [1,2]. Patient often describes chest pain as "tightness", "fullness", "constriction", "pressure" or "a heavy weight" on the chest [2]. Patient's history is the key determinant to identify the cause of chest pain. Angina pectoris and acute myocardial infarction are the most common cardiac causes for chest pain that patients may experience in dental setting [2]. If this is the first episode of chest pain, dentist should treat the patient as if it was an acute myocardial infarction and call for emergency medical services [2]. In cases of  conscious patient with patent airway; dentist should seat the patient in upright position and assure the patient until the pain subsides [2,3]. The patient then scheduled for another appointment and discharged accompanied by an adult to escort the patient. If the patient is a known case of angina pectoris and the patient has glyceryl trinitrate tablet or spray, have the patient chew the tablet or spray it under the tongue [3]. Dentist should not discharge the patient until the painfully subsides and an adult companion may escort the patient. If the patient is unconscious, dentist should establish patent airway and CPR until the emergency medical services arrive and take over.
References:
Garfunkel A, Galili D, Findler M, et al. Chest pains in the dental environment [in Hebrew]. Refuat Hapeh Vehashinayim 2002;19(1):51-59, 101
Reed KL. Basic management of medical emergencies: recognizing patient's distress. JADA 2010; 141(Suppl 1): 20S-24S
Dental Council of New Zeland, Code of Practice; Medical emergencies in dental practice.
December 2006 (updated January 2008).
Created for SaudiDent.com by: 
Weam Banjar; BDS., MSc. Clinical Research