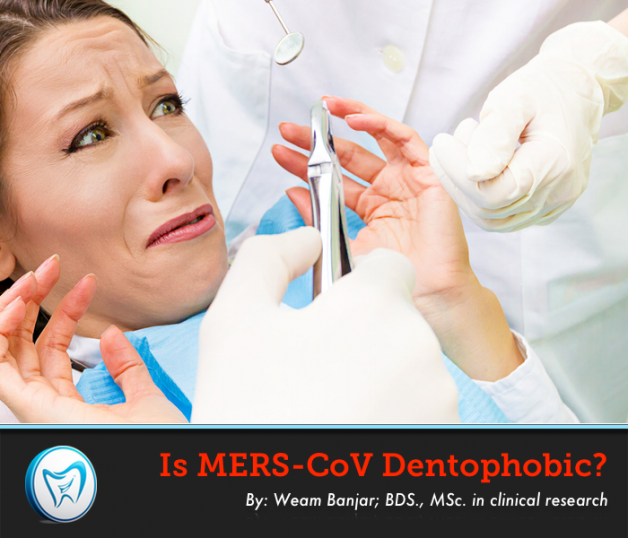 Middle East respiratory syndrome corona virus (MERS-CoV) is an emerging pathogen that causes severe respiratory tract illness. All confirmed cases are linked to residence in or recent traveling to the Arabian Peninsula. Saudi Arabia reported the highest frequency of cases according to the WHO.
Several cases had been reported among healthcare workers (HCW) in Saudi Arabia. HCWs diagnosed with MERS are often emergency room or ICU staff according to media reports released by the Ministry of Health in Saudi Arabia. Cross-infection at hospital setting is indicative for poor infection control measures and improper adherence to personal infection control hygiene measures. Although dentists work at close proximity to patients, which exposes them to respiratory droplet, there are no cases reported among dentists.
Infection control is the first lesson taught to every dental professional that helped dental professionals to maintain high infection control measures during their practice, which in turn reduced the cross-infection rate. The MERS-CoV is able to survive for nearly 48 hrs on surfaces. As a result respiratory droplets, if left, may accumulate and survive in dental clinic. Strict adherence to infection control protocols led to minimize the risk of contamination and cross infection. Dental clinics could be best environment for MERS-CoV, if infection control measures were poor. The main reason behind absence of reported MERS case among dentist is that dentists succeeded to establish MERS free environment and not that MERS-CoV is dentophonic.
Close adherence to infection control protocols is the key to reduce the risk for contamination and cross-infection. Medical staff may benefit from the dental experience in the field of infection control to establish MERS resistant environment.
Written by:
Weam Banjar; BDS., MSc. in clinical research